MOUNT Ol donyo Lengai & Lake Natron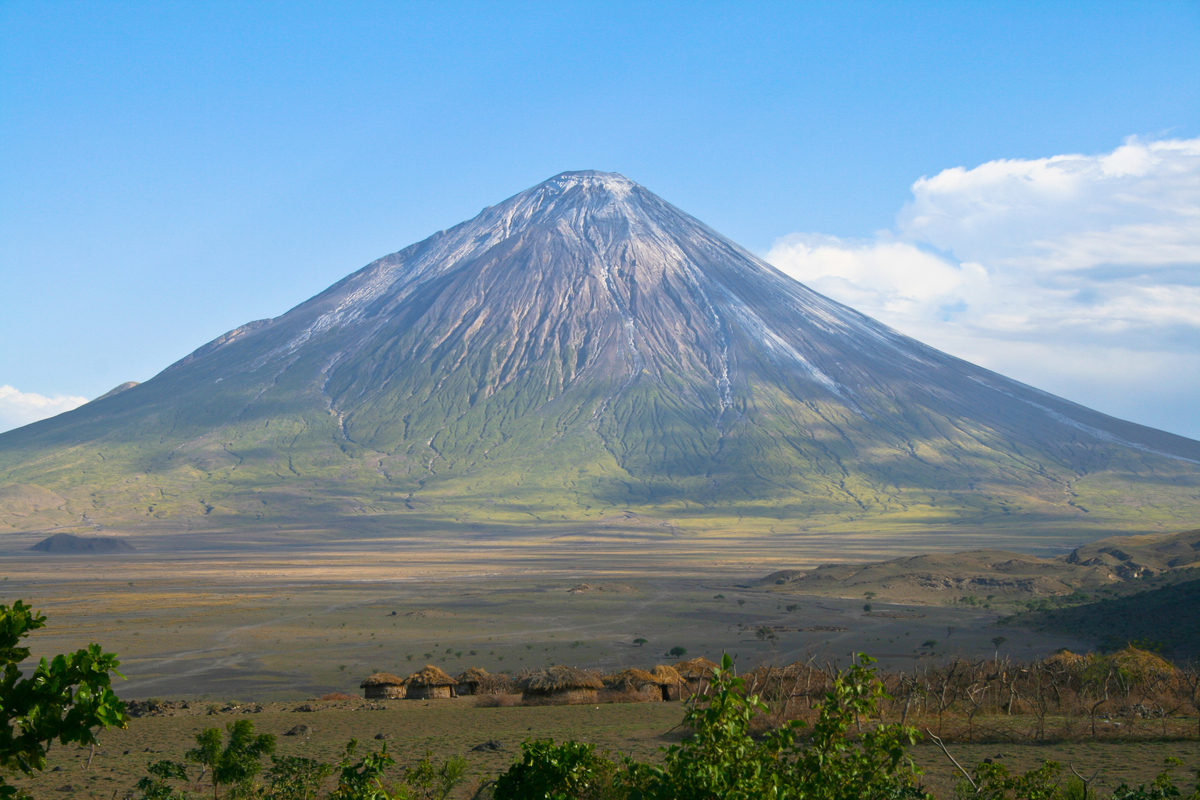 Ol'doinyo Lenkai is the only active volcanic mountain in the East African Rift Valley Region which attracts many geologists from all over the world who come for research.
Scientifically, carbonated lava is dark brown upon extrusion, but reacts very rapidly and turns into moisture to hydrate, then to secondary alteration minerals that impart a white colour to the rock. The Maasai believe that the "white rock" symbolizes the white beards of "Enkai".
Many tourists visit and climb this mountain which is located in Northern Tanzania every year Mountain Lenkai (normally known as "Ol'doinyo Lengai") rises about 2,100 meters above the East African Rift Valley floor to a height approximately 2,880 m.
The name Ol'doinyo Lenkai which means "Mountain of God" originates from the Maa language (the Maasai's language) from Ngorongoro area.
The Maasai people conduct prayers to God "Enkai" or "Engai" whom the Maasai believe is the Creator of all things on this active volcanic mountain.
South of Lake Natron in the eastern rift valley of North Tanzania, lies Mount Ol Doinyo L'engai (locally regarded as the sacred Mountain of God in the Maa Language), an active volcano. At 2878meters, Mt. Lengai is the only known volcano in the world that sometimes erupts natrocarbonatite lava, a highly fluid lava that contains almost no silicon.
Plains, arid expanses, yellow bark acacia woodlands, volcanoes, craters, collapsed volcanoes (calderas) Engaruka archaeological site shrouded in mysterious. Esilalei maasai area lying on the path of the elephant migration corridor. Plains game wildlife, zebra, antelope, giraffe, eland, oryx, kudu, hyena, wild hunting dogs, gerenuk (giraffe antelope, dik dik, great birding, eagles, raptors and large populations of ostrich)
The Lake Natron;Located about 25 Km to the north of Oldonyo Lengai and making opposite with Kenya, this lake, in spite of its difficult access, is a marshy area, is advisable to visit.
There are thousands of flamingos, mainly at the end of the rain season. Besides being famous for the discovery of remains of stone tools from more than a million and half of years ago.
We could say that is one of the most unusual and surprising lakes, because in some occasions their waters are colored of a reddish color (due to the numerous concentration of marine algae combined with the salt that comes from the mountain.